ME442 Wire-In ECU
Fully Sequential Four/Six/Eight Cylinder Engine Management

feature rich | accurate | reliable
The ME442 Wire-In ECU is a feature rich and future proof four, six and eight cylinder injection engine management system. Built from the ground up using the latest control strategies means a modern, powerful, VE based ECU, with enhanced feature set including closed loop boost, in-built Wideband Lambda Control, DSP Knock Control, on-board data Logging and VVT control – all in a compact form factor. Massive IO means the ME442 can handle anything thrown at it, and custom tables means any specific algorithms required can be easily derived.
VE Based, Fully Sequential Injection (up to Eight Cylinders)

Sequential Ignition (up to Eight Cylinders)

Boost Control

Idle Control
In-Built Wideband Lambda Control

CAN-bus

Data-Logging

Dual Drive-by-Wire

Switchable Maps
VVT Control

DSP Knock Control

Massive, configurable IO

Advanced Motorsport Features

Powerful Tuning Suite
Powerful 180MHz RISC processor

90 Way Automotive connector

IP67 Sealed Casing

DSP Knock Processor

8x IGBT Coil Drivers
4x VR/HALL Crank/Cam Inputs

Fault Diagnostics

On-Board Wide-band LSU4.9 Controller

Serial & CANBus Communications

38 Outputs, 28 Inputs

2x 7A DBW H-Bridge
VE Based Fuelling
Accurate, modern VE based modelling of the engine means faster to tune, and more accurate compensations for environmental changes as opposed to older pulse-width based management systems. Microsecond accuracy and fuel and ignition calculations carried out over 500 times a second means unparalleled transient response and consistent results.
Idle Control
PID Closed Loop Stepper based, DBW or PWM Idle control with idle up on demand from other systems such as AC and cooling fans means OEM-like starting, warm-up and drive-ability. Spark-Scatter means even faster idle response by varying the ignition advance to compensate for slight load variations.
CANbus Connectivity
With CAN-Bus, you can connect other devices such as dashboards, EGT modules or power control systems directly to the ME442, expanding its control and data capture with the simplicity of a 2-wire, vehicle wide network.
VVT Control
The ME442 comes equipped with a dual-VVT closed loop control system. From the enhanced Honda VTEC control algorithm, through to continuously variable systems as used by the Ford ST170 & BMW VANOS engines. Optimised camshaft timing helps to deliver a smoother, higher torque curve across the rev-range.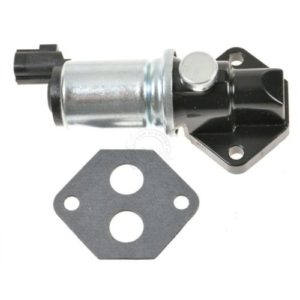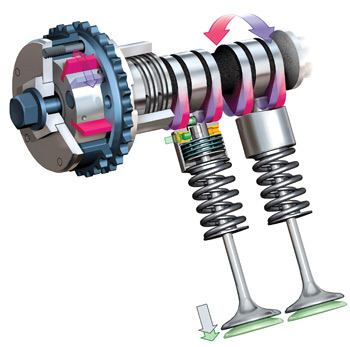 Massive I/O
Inputs & outputs can have an array of different functions assigned, meaning unused injector channels could instead be used for boost control, or the spare O2 signal could be used for a Flex Fuel sensor. With 90 pins for connectivity, and over 60 channels of IO, including 38 Outputs, 12 Analog and 8 Digital inputs means even the most complex engines can be controlled and monitored with the ME442.
Knock Protection
The ME442's advanced knock control offers true DSP processed measurement of knock, with per-cylinder angular windowing to locate, and act upon signs of knock, ensuring engine safety and longevity. Fuel enrichment, ignition retard and user definable aggressiveness give maximum control.
Fault Diagnosis
Using the latest Bosch ASICs for outputs, the ME442 actively monitors for short, open circuit and over current conditions on the injectors and coil drivers – making it easier to track down wiring faults, or protecting against hardware failure and connection errors.
On-board Logging
With 4GB of non-volatile on-board memory, the ME442 will log 80 channels at over 50Hz for more than an entire Le Mans 24 hour session!
Wideband Lambda Built-In
The ME442 features a BOSCH LSU4.9 Wideband controller built in for accurate, fast measurement of exhaust gasses to determine the engine's Air/Fuel Ratio. Coupled with closed loop control, the ECU will target the correct fuelling, or, populate its Long Term Trim table to show errors and adjustments made automatically in real time to the VE table. Even better, when connected with MEITE you can use auto-tune and let the ECU do the hard work of tuning the VE table to perfection.
Boost Control
Fully featured closed and open loop boost control means accurate manifold pressures and turbo waste-gate management – several dimensions of control including throttle, rpm and even gear based boost targets. Quicker spooling and stable boost means optimised torque can be delivered under all conditions.
Motorsport Features
Switchable maps, Launch Control, 2-Step Limiters, Water Injection, Flex Fuel & Anti-Lag are just a few of the advanced features of the ME442 – all included, all unlocked. And with more features added over time via free, in-field firmware updates, the list is ever growing…
Custom Functions
With general purpose tables and custom variables, you can combine inputs and effectors to create practically any bespoke function you may require, all from within the MEITE tuning software.
Powerful Tuning Software
The Motorsport Electronics Integrated Tuning Environment, or MEITE, for short, is a powerful, flexible Windows tuning interface for working with our range of ECUs. Fully customizable layouts and interface, allowing the novice to play with just the basics (starting from one of our many base-maps), or the advanced tuner to really get under the hood, the options are there…
Worldwide Tuner Network
We have over 100 authorised tuners across the planet, and the list is constantly growing – meaning you're never far away from a tuning professional who has experience of the ME442 and will therefor get the best from your engine. That being said, any competent rolling road tuner will be able to use the MEITE software to tune the VE and ignition tables, and we are always on hand for further support if required on the day. Want to know where to find them? See the map here.
Advanced VE Fuel Model
Sequential Fuel & Ignition
Digital Crank/Cam Triggers, Array of OEM Patterns Supported
Real-Time Switchable Fuel, Ignition & Boost Maps
Individual Cylinder Trims
Re-mappable Inputs/Outputs
16×16 Floating Point Fuel, Ignition, AFR, VVT, Boost Tables etc
Multi-Dimensional Trims (IAT, CLT, VSS, DeltaError)
Closed Loop/Open Loop Boost, Idle, VVT, Lambda
Closed Loop VVT & simple V-Tec cam control
Water-meth injection Control
Flex-Fuel Support
DSP Windowed Per-Cylinder Knock Control
Motorsport Features such as Anti-Lag, Launch Control
6x General Purpose Tables (Create any function you can think of!)
Long Term Trim and Auto-Tune
Outputs
Any unused outputs can be re-purposed to any other output function.
8x IGBT Ignition Drivers with event sensing and current monitoring (can also be used to drive active ignitors)
8x Injector Outputs (2.5A) with current sensing and fault detection (open/short etc)
16x Low Side, 500mA drivers (8x PWM-able with open/short detection)
4x High Current PWM-able with over-current & fly-back protected outputs
2x Half Bridge DBW Driver 6.5A with protection (2x High Side, 2x Low Side, PWM-able)
1x Full Bridge Stepper Driver (2x High Side, 2x Low Side, PWM-able)
1x 12V Tachometer Output
On-board 6DOF Accelerometer and Gyro
Inputs
4x Analogue Temp Inputs (High-Z Buffered, 2K7 to 5V)
7x Analogue Voltage Inputs (High-Z Buffered 0-5v protected)
1x On-board Voltage and Battery Voltage Monitoring
4x crank/Cam VR/Hall/Opto/Speed Inputs with active noise rejection
6x Digital Switch/Flex Fuel/Frequency/Wheel Speed Hall Inputs
1x Wide-band LSU4.9 Direct Sensor Input with fault detection BOSCH ASIC Powered
2x Knock Input (DSP Filtered and Windowed)
Systems & Communications
180MHZ 32-bit FP RISC Processor
5.5-28V Input Supply
Dual 5v 200mA sensor reference supplies
Sensory Ground reference
2x 2.0b CAN-Bus
1x RS232 Serial Comms (Tuning and Data, supports FTDI USB Cables)
4Gb non-volatile On-board Data-Logging Memory with Battery Backed Real-Time-Clock
90 Way Automotive Connector
IP67 Sealed Alloy Casing
ISO9001, UK Assembly & Testing
Tuning Software (MEITE)
Intuitive, developed with real-world feedback from 100's of tuners
Everything real-time adjustable
Diagnostics and analysis functionality
Custom layouts, tabs and functions
In-built firmware update tool for ease-of-use
Custom "part calibration" import – use settings from other maps in a current map
Offline Editing of calibrations
Real-time tracing
Data-logging of all variables and Auto-Tune
Fuelling Control
Configurable Load/RPM BINS 16×16, 32 bit floating point Tables
Multiple Fuel Tables
Injection Angle
Priming Pulse Settings and Crank Pulse Settings
Cranking Enrichment
After-Start Enrichment and ASE Time Decay
Warm-Up Enrichment
Acceleration Enrichement TPS/MAP based with Coolant Modifier
IAT Correction Table
Idle Trims
16×16 AFR Target Table factored into VE Equation
Speed-Density/Alpha-N with optional Blending
Injector Voltage Offset Table
Overrun Fuel Cut
Closed Loop Narrow-band/Wide-band Lambda control with Bosch LSU4.9 Controller On-Board
Flex-Fuel secondary tables
Ignition Control
16×16 32bit Table
Closed Loop DSP Windowed Knock Control On-board
Battery Voltage Dwell Correction 16×16 Table
Individual Cylinder Trimming
IAT and Coolant Trim
Spark-Scatter Ignition Idle Control
Flex-Fuel Control
Switchable Ignition Tables
Crank/Cam Triggering
VR/Hall/Opto Inputs as required
Auto-scaling, Parametric Noise Rejection
Range of OEM Patterns Supported
Idle Control
PWM based Closed/Open/Manual Diagnostic Modes
4-wire Stepper based idle control
Cranking/Return to idle Settings reference Open-Loop table for wide-control
DBW Idle Control *where DBW is used
AC/Fan Auto-Idle Up Settings
PID Based for Accuracy
Fuel Modifiers
Ignition Spark Scatter
Jacked-Throttle Miss-Bang Idle Mode (Group-N ALS)
Knock Control
DSP Angular Windowed Knock Control
Settable Gains, Offset and Window Duration
Step Retard and Fail-Safe
Boost Control
Closed/Open Loop Boost Control by 16×16 RPM and Throttle table
Boost-by-Gear
Switchable Boost Tables
Over-Boost Protection
Pre-Start Duties
Anti-Lag Group-N
Variable Valve Timing
Fully Closed Loop PWM (Throttle X RPM table)
Dual Cam Support
Locked Angle or Locked Duty testing modes
Basic On/Off Mode (Honda V-Tec)
Supported patterns include MX5 2001-2005 and Ford ST170, Ford Puma 1.7
PID Tuning with Oil Temperature triggering & safeties
Programmable Rest State & Offset compensation
General Purpose Tables
6x General Purpose Tables
Custom Variables and Outputs
Modify Fuel, Ignition, Boost and Idle strategies from the GPTs
3D and 2D tables with ability to "chain" tables together for create complex functions
Communications
Industry Preferred RS232 for ECU mapping/communication (USB Adaptor available)
CAN-Bus on some models
USB on some models
Drive-by-Wire 
6.5A Half bridge
Closed loop, dual redundant DBW
DBW Idle Control functions
Software and Hardware fail-safes
Processing Power
120Mhz 32-bit RISC Processor
Ignition Accuracy to 0.01 degrees, Fuelling to 0.001mS
32-bit maths and tables (Table entries can have 8 decimal places for very high resolution)
ADCs/Analogue data reported to 16-bit accuracy
20,000+ RPM
Analogue/Digital Inputs
Configurable "HRT"'s for every analogue channel – use any sensor. Basemaps pre-set for factory sensors.
Wide-band O2 LSU4.9 Controller Built In
TPS, IAT, CLT, MAP, Lambda standard inputs
Selectable feature for digital/analogue inputs
Spare/unused analogue lines can be used for general purpose tables or digital switches
Environmental & Physical
Automotive -20 – 85*C
Voltage 5.5-28V
Operating Current Approx 120mA @ 13v
Electrically isolated and protected inputs/outputs
90 Way Automotive Connector
IP67 Sealed Alloy Casing
DataLogging
4Gb On-board Data logging – over 2,000 Hours of all variables
Unlimited PC based logging via MEITE
User settable Triggers and markers